JAPAN RACING WHEELS
Aluminum wheels manufacturer, which has tens of different models in it's portfolio. Brand which is known and recognized all over the world.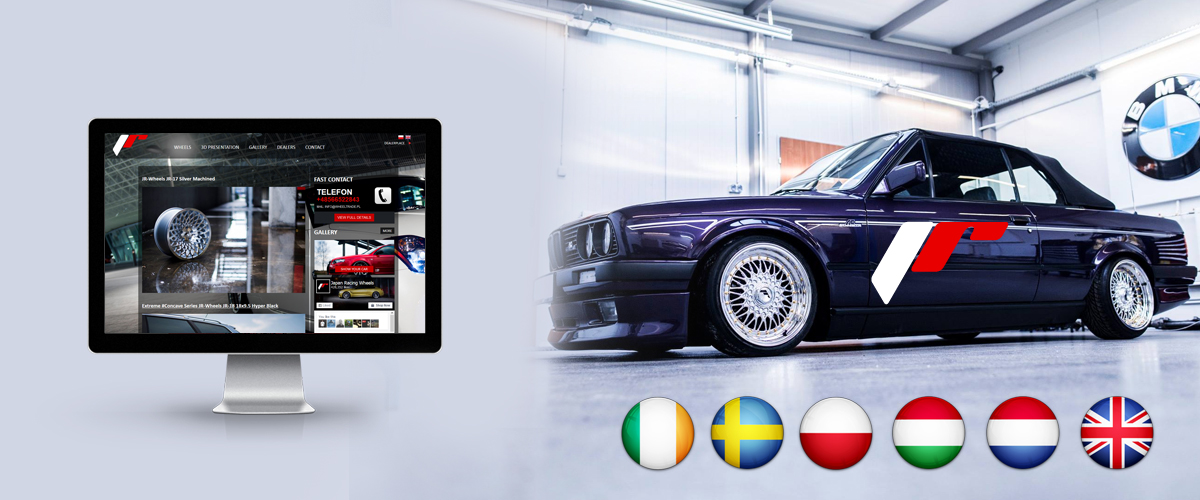 CHALLENGE
The company is selling it's goods already for few years. Intensive progress brought a need for a new, more advanced and efficient solution, our goal was:
system, which will work on B2B and B2C level,

synchronization of the online store with a booking-warehouse system Subiekt GT,

international sales platform.

Dedicated sales platform for B2B and B2C customers
JR-WHEELS.PL store is a dedicated platform for both groups of customers - B2C and B2B.
B2B platform has been divided into specific distributors, which have received their own version of the platform with specific graphics.
International sales is run by distributors in the following countries:
Sweden
the Netherlands
Hungary
Ireland

The online store of a distributor is synchronized with a database of the jr-wheels.pl platform from which the products and actual stock is being pulled. Distributor has the ability to enter the stock of products which are in his own warehouse and customer is being informed about the delivery time.
Additionally each distributor has the option to set an individual discount for his chosen trade partner and to choose a payment method which is only availible in a specific country (for example Realex Payment).
Integration with ERP Subiekt GT
Fast and efficient order and stock management is a core of the jr-wheels store.
Application is using an automated synchronization with a database of Subiekt GT ERP system. It includes:
order management,
stock management,
full price adjustment based on the country of distribution.

Advanced rim search
Big quantity of products have enforced to design an advanced search functionality, which allows customers to find the exact rim that fits their car.
The search is using a predefined features in Subiekt GT software:
Size of the rim,
Color,
Bolts setout
Rim width
Rim embedment ET
SOCIAL MEDIA AND PRODUCT PRESENTATION
Aluminum rim is a specific product which is bought with "eyes". The main thing is to have a really good photos and proper presentation.
Facebook profile is being followed now by almost half a milion of fans and it's being integrated with the online store. All the news and photos are published on the profile.
360° and 3D visualization allowed for an attractive presentation of the offer to a customer.

POST IMPLEMENTATION RESULTS
The implementation of the international sales platform which is directed at B2C and B2B customers. Increase in sales.
In near future company has plans to establish cooperation with new partners in Europe.